Grove British Labs Kennel has owned British Lab dogs since 2001.  Right from the start they stood out because of their easy going temperament and smaller size.  Many people inquired about the breed along the way.  In 2003, we decided to start breeding puppies.
Even from an early puppy stage, you can see the dogs calm demeanor and relaxed temperament.  We have been excited to see each new litter, and our customers have been impressed with the makeup of the dogs they have taken home. 
Each puppy comes with a limited AKC certificate, puppy health guarantee, and vaccination record.  We also include photos and pedigree records for both parents.  Dew claws are removed during the first week.  The weaning process starts around 4 weeks of age.   The pups will have received 2-3 rounds of deworming meds.  At around 7 weeks of age they will receive a vet checkup and their first puppy vaccination. 
We are a smaller breeder – having on average 6-10 litters per year.  We take time to socialize with each puppy, and they really do become part of our family in the process.  You will see that our puppies are comfortable interacting with people.  We give them individual attention.  We desire to see the puppies be a good fit for their future homes.  
We work to determine the temperament of each puppy so that you can make an educated choice to match your particular situation.  Also, all puppies are started on crate training and potty training.  That will make the transition easier for you – their new pack leader!
We know that new puppy owners are excited to meet their new family member.  But out of consideration for the health of the nursing pups and mom, we need to restrict visits until the pups are closer to 7 weeks old and their immune systems have had a chance to build up.  We use video and pictures on Facebook extensively to give you an inside view of their progress.  And we'll update the website with any critical info. 
We schedule the selection and takehomes of the puppy around 7-8 weeks of age.  One to two weeks prior to takehome, you will receive an electronic puppy guide that will walk you through the most asked about items (i.e. vaccination records, booster shot schedule, feeding schedule, puppy chow to purchase, crate options, best chew and play toys, potty training tips, etc.).   That way it gives you time to get your home ready for your newest family member. 
Kennel visits are setup at times when we have puppies old enough to show.  We schedule Open Houses which we advertise a couple of weeks in advance on our Grove British Labs Facebook page (follow us to see updates).  So if you are considering putting in a deposit and desire a kennel visit, that is the best time to meet us, see a few of the adult dogs, and also see pups which are old enough to be handled. 
If you have interest in reserving a puppy, the best approach is to fill out the Puppy Inquiry page on the website.  That will then go to the kennel so that we can follow-up via email.   We use Facebook along the way to post pictures and video of existing litters so that those customers with current deposits down on a litter can stay informed of their progress.
---
We are inspected and have passing grades by the Minnesota Board of Animal Health and the American Kennel Club (AKC).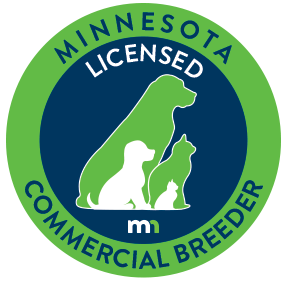 ---
Grove British Labs |

British Labradors |
British Labrador Puppies |

Breeder of Quality British Labs
Minnesota (MN),  Wisconsin (WI),  Iowa (IA),  South Dakota (SD)  &  North Dakota (ND)
Inver Grove Heights, MN  55077  (cell) 952-484-0112